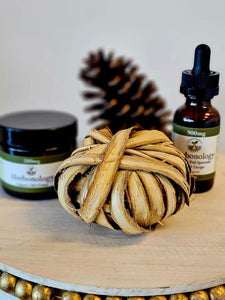 Katrafay Bark is native to Madagascar and is used in holistic medicine for its anti-inflammatory and analgesic qualities.   It is commonly used for relief from rheumatism, joint pain, and muscle pain.  Katrafay Bark baths are often used for women after  childbirth to help with skin tightening. 
How to Use:  To add to a bath - Boil the bark in a saltwater mixture for 30 minutes.  Let cool, strain, and add to a bath to help relieve pain and inflammation.
To add to a tea - break off one strand of the bark per 2 cups of water and boil for 15 minutes.  Let cool and enjoy.
Note:  These statements have not been approved by the FDA.  This product is not intended to diagnose, treat, cure, or prevent illness or disease.  Consult a physician before use.